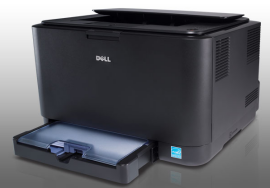 Laser printers have become very popular now that the prices have been dropping over the last year or so.
Inkjet printers are generally priced much lower than a laser, but the price per page printed is much lower with a laser printer.  The only obstical to many home uses to switching to a laser printer has been the issue with being able to print in color.
Monochrome laser printers have been priced below $100 for a while, but this is one of the first color laser printers in that price range.
The Dell 1230c is a basic color laser printer that can printer 17 pages per minute in monochrome and 4 pages per minute in color.  Making it a perfect printer for a small office for home.