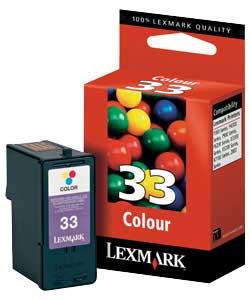 Lexmark No. 33 (18C0033) Color Original Print Cartridge is designed for those who print infrequently.
Ideal for those who want to adapt the cartridges they buy to the kind of printing they do.
Provides occasional users with the capacity and yield best adapted to their printing needs.
Costing you around $30.00 and also works efficiently with other printer models as follows:
Home Copier Plus, P315, P4330, P4350, P450, P6200, P6250, P6350, P915, X3330, X3350, X52, X5200, X5210, X5250, X5260, X5270, X5450, X5470 ,X7170, ,X7350, X8350, Z810, Z812, Z815, Z816, Z818, Z915.