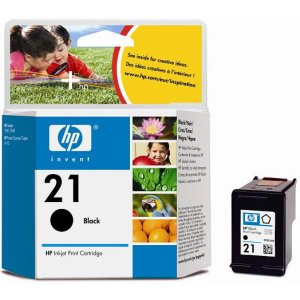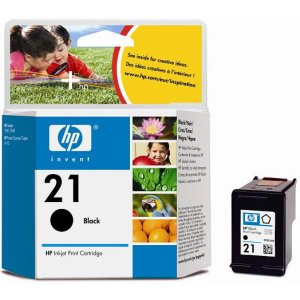 HP is a well know brand in supplying printers and ink cartridges. HP 21 Inkjet Print Cartridge (C9351AN) is one of the most popular ink cartridges.
It provides prints quality which is true to original. It also gives you professional quality prints with true clarity and sharpness.
This cartridge has a backup mode allows you to continue printing with one print cartridge when the other print cartridge has run out of ink.
Costing you around $20.00 works with various models Such as:
DeskJet D2445, DeskJet D1460,DeskJet D1468,DeskJet D1470,DeskJet D1520,DeskJet D1530,DeskJet D1560,Deskjet D2320, DeskJet D2330,Deskjet D2345,DeskJet D2360,Deskjet D2368,Deskjet D2400,DeskJet D2430,DeskJet D2460,DeskJet F2100, DeskJet F2110,DeskJet F2120,DeskJet F2128,DeskJet F2140,DeskJet F2179,DeskJet F2180,DeskJet F2187,DeskJet F2188,DeskJet F2210,DeskJet F2212, DeskJet F2240, DeskJet F2250, DeskJet F2280, DeskJet F2290,Deskjet F300, DeskJet F325, DeskJet F335, DeskJet F340, DeskJet F350, DeskJet F370,DeskJet F375, DeskJet F378, DeskJet F380,DeskJet F390,DeskJet F4135,DeskJet F4140,DeskJet F4150, DeskJet F4172, DeskJet F4180,DeskJet F4185,Fax 1250,Officejet 4310,OfficeJet 4311,OfficeJet 4314,OfficeJet 4315,OfficeJet 4315v,Officejet 4315xi,OfficeJet 4317,OfficeJet 4319,OfficeJet 4355,OfficeJet J3508,OfficeJet J3608,OfficeJet J3640,OfficeJet J3650,OfficeJet J3680,PSC 1400,PSC 1401 ,PSC 1402,PSC 1403,PSC 1406,PSC 1408,PSC 1410,PSC 1410v,PSC 1410xi,PSC 1415,PSC 1417,Deskejet D2468,DeskJet 3747,DeskJet 3900,DeskJet 3910, DeskJet 3915,DeskJet 3918,DeskJet 3920,DeskJet 3930,DeskJet 3930v,DeskJet 3938,DeskJet 3940, DeskJet 3940v, DeskJet D1311, DeskJet D1320,DeskJet D1330,DeskJet D1341,DeskJet D1360,DeskJet D1368,Deskjet D1400, DeskJet D1415, DeskJet D1420,DeskJet D1430,DeskJet D1445,DeskJet D1455.