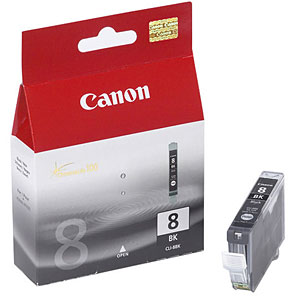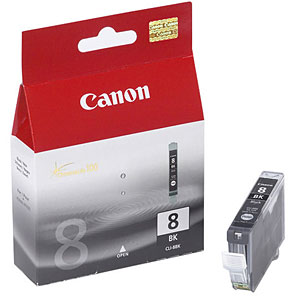 Canon CLI-8BK Ink Jet Cartridge helps you get excellent picture quality with extreme clarity and sharpness.
When it comes to durability Canon claims its ChromaLife 100-ink system will resist fading for 30 years when used on Canon Photo Paper Pro or Photo Paper plus Glossy and framed in glass, or 10 years when not framed.
Seal your prints in an album with a plastic cover sheet and keep them in the dark, and Canon says they'll stay preserved for 100 years. It cost you around $19.00 for the retail cartridge and about $4 for a compatible.
Its works with various models such as:
Pixma iP4200, Pixma iP4300, Pixma iP4500, Pixma iP5200, Pixma iP5200R, Pixma iP5300, Pixma iP6600D, Pixma iP6700D, Pixma MP500, Pixma MP510, Pixma MP530, Pixma MP600, Pixma MP600R, Pixma MP610, Pixma MP800, Pixma MP800R, Pixma MP810, Pixma MP830, Pixma MP950, Pixma MP960, Pixma MP970, Pixma MX850, Pixma Pro 9000.