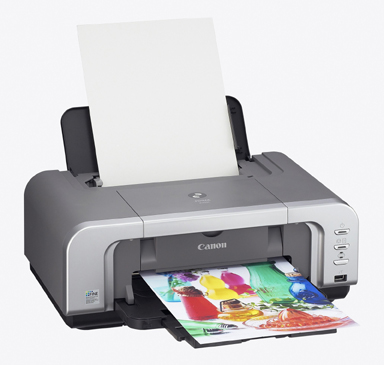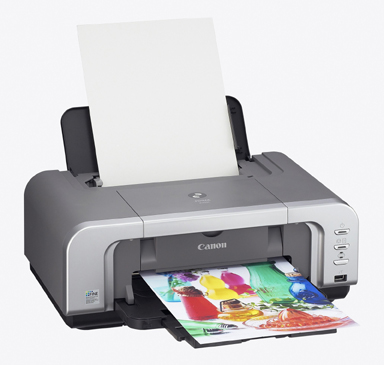 When we talk about printers then Canon comes for sure. Canon printer stands for its reputation in terms of performance, technology and quality. Canon always comes up with its best featured printer people expects.
The Canon Pixma iP4200 with its excellent functions and quality will surely surprise you. It offers amazing features such as paper-feeding options and also you can load letterhead paper into one tray and second sheets into the other, or you can use the same size of paper stock in both trays. The iP4200 can automatically switch from one tray to the other to handle print jobs of up to 300 copies.It also gives you automatic duplexing feature and you can define margins and specify a space for stapling on any sides of the sheet.
The Pixma iP4200 uses Canon's Full-Photolithography Inkjet Nozzle Engineering print head, which emits droplets as small as 1picoliter give you an excellent quality and high definition prints. This technology gives you even the fine design at its best sharpness and clarity.
The ip4200 replaces the iP3000 and iP4000 printers. The iP1600 replaces the iP1500.
Canon Pixma iP4200 provides four-color inkjet includes automatic duplexing, decent text output, bordered or borderless color prints and dual paper trays that make it easy to alternate between paper stocks. The flip-up vertical auto feeder tray accepts 150 sheets of paper and you have also got a second 150-sheet input tray. It fits flush with the printer when loaded with 4×6-inch or 5×7-inch paper and extends outward an additional 4.5 inches when loaded with 8.5×11-inch stock
Although the iP4200's driver can automatically adjust color balance, you can access sliders that adjust the intensity of the individual inks; you can also switch from sRGB to Windows Image Color Management (ICM). Greyscale printing just requires the tick of a check box, and a simplistic Print Advisor wizard can quiz you on the kind of document you're printing and the appropriate paper.
With loads of amazing features and functions easy to use and getting a high end quality prints at ease is possible with Canon Pixma iP4200. It's and a printer which gives you true value for you money.