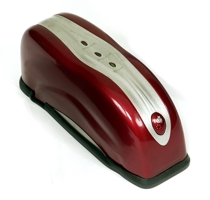 A British company, PrintDreams, has created a prototype of the worlds smallest printer.  The PrintBrush is a handheld printer that can print full size documents.
The technology is amazing.  Other mobile printers currently on the market are limited to printing small photos on special paper.  But the PrintBrush can print regular sized documents on regular paper or directly onto any printable surfaces.
There are no wires or cables making it a truly mobile printer.
The PrintBrush is scheduled for release by the end of 2009 or early 2010.