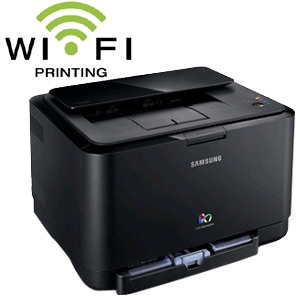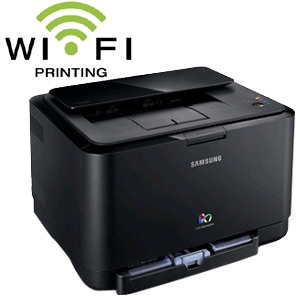 The Samsung CLP-315 W is a complete color laser printer featuring a built-in wireless connectivity that makes it simple to link several computers to the printer over the network.
Being the smallest of its class, the compact CLP – 315 saves money by giving you the option to replace each one of its cartridges. Though it has a well-designed printer, it loses its momentum in quality and print speed.
Features and Design
Unlike other flashier printers of Samsung like Samsung ML-1630, the design of this printer is extremely straightforward. With touches of glossy plastic trim around its perimeter, majority of the chassis is dark piano black in color. Weighing only 24.3 pounds, the printer sits in at 9.6 inches tall by 12.3 inches deep and 15.3 inches wide. Hence, when you compare it with other color laser printers, it is surprisingly compact. For instance, the Dell 1320c is double the weight and size of Samsung CLP-315 W and does not have a built-in wireless print server.


Just as the chassis, the top of Samsung printer is simple, with several LED lights and single power button to indicate the wireless connection and notify you about the toner shortages and paper jams. Annoyingly, the control panel lacks a dedicated cancel button. Hence, in case you prefer to halt a job in between, you can manually do it with the help of the operating system. To catch the paper on its way out of the feeder, the top of the unit also has the foldout arm. To its bottom lays a removable paper tray which holds the 150 standard sheets of paper in numerous sizes of up to 14 inches by 8.5 inches.
Unfortunately, there hardly is any manual feed slot that you can commonly see in the single function laser printers, but you could use the main input tray for various types of irregular media, including transparency papers, card stock and envelopes.
There are four toner cartridges used by CLP-315 W (one black and three colors) hidden on the front faceplate behind a drop-down panel. These cartridges are easy to replace and remove using color-coded tabs and are lightweight. Each of these cartridges come only in a single capacity and can be purchased through various channels for nearly $ 40. Since the cost of color and black cartridges are one and the same, each page costs 4 cents, just a bit on the expensive side compared to Dell 1320c. The amount of pages that it could print every month is also limited. The duty cycle of CLP-315W is nearly 20,000 pages. Small workgroups and businesses having high monthly print volume could be better suited for printers like Brother HL-4040CN that handle nearly 35,000 pages every month.
To print wirelessly from the computer, the printer also has a built in 802.11b/g. Establishing a successful wireless connection hardly takes 30 minutes.
Your browser may not support display of this image.When compared to other similarly priced laser printers, the CLP-315 W is substantially slower than the pack in white and black, especially the colored ones. For plain black speed, it scored 13.5 pages per minute, which was a bit faster compared to the Dell 1320c. In addition, the CLP -315 W also takes the largest time for spitting out any form of color document, scoring 4.07 pages for each minute of color text and 3.64 pages for every minute of color graphics. The remaining units within the comparison lineup finished their printing within half the time for both categories.