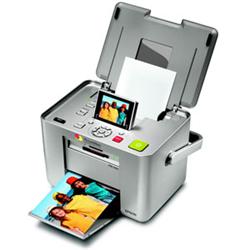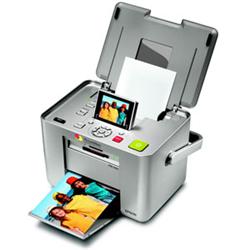 One of the moderate-offerings of Epson's three personal photo labs is the PictureMate Snap. For $ 200, you receive everything, right from faster prints and adjustable preview LCD to an optional battery pack – a boon for travelers. If you debate between snap and PictureMate Pal, the additional features may set you back by $ 50. For additional $ 100, you can select the PictureMate Flash and a built-in CD burner.
Though Picture Mate Snap has a similar body structure as the Pal, there is a slight difference in the control panel design. One of its most noticeable changes is the inclusion of 2.5 inch adjustable preview LCD. As a printer user, you would love it as it allows you to optimize viewing under different conditions. The PictureMate Snap includes a display button which permits you to toggle viewing 6, 1 or 15 photos each time on the LCD screen. Besides the OK key for navigating menus, its keys are four directional. Additionally, it also has two soft keys which permit you to select options appearing on the screen.


The PictureMate snap, just like its predecessor – the Pal, has a couple of built-in memory card slots on its front which accepts major types of cards. In addition, it also has a USB port in its back to print from wireless Bluetooth devices or from PictBridge-enabled cameras (with a Bluetooth adapter). In addition, the snap seeks help of USB port to get connected to the external storage devices like CD burners. You can either print live images on the thumb drive or back up a memory card to CD.
There isn't any difference between setting up the Pal and setting up the PictureMate Snap. For PC-printing, simply install the print cartridge, plug it in and you are ready to go. If you want to take the printer with you without the hassle of totting the power cable, the snap would help you run on the optional battery pack. When sold separately, the $ 50 battery has enough charge to print nearly 140 photos or stay on standby mode for nearly six hours.
Enhancing the feature set of the Pal is the PictureMate Snap. While selecting photos, you can sort by date or range – a useful thing if you are less than diligent in deleting older pictures from memory cards. There are additional layouts which are available too, including jumbo wallet, US Passport and 3×3. Besides printing the index sheet, you can also print CD index sheet – select photo thumbnails, and also act as a guide to fold the sheet such that it perfectly fits in the CD jewel case.
With the snap, you can also get great photo enhancement features. Besides, you can also adjust its settings such as saturation, brightness and sharpness and also crop the photos on printer and correct the red eye directly.
Epson backs its PictureMate line with a one-year limited warranty. While the phone-tech supports are available on weekdays, you can mail your queries to Epson Tech support. The firm's website offers manuals, downloadable drivers and also FAQs.