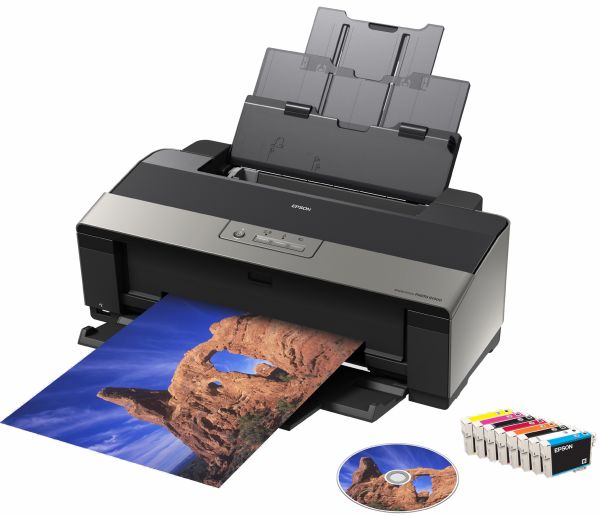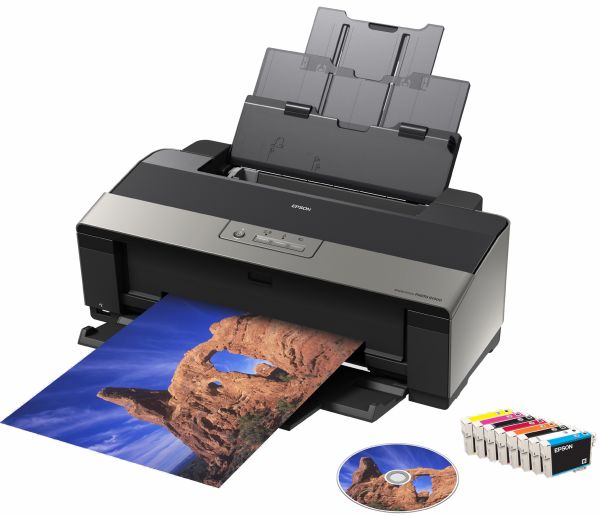 Printer technology advances never come along frequently. More often than not, they tend to be less earth shattering. Nearly three years after Epson introduced the popular Stylus Photo R 1800, the printer manufacturing giant has now released the Stylus Photo R 1900, introducing an entirely new version of the firms' pigment-based Ultra Chrome Hi-Gloss ink set known as Ultra Chrome Hi-Gloss 2. Rather than the blue cartridge used with R 1800, the new ink includes an orange cartridge and offers slightly better skin tones.
The printer design seems a lot like Stylus Pro 3800. Though both utilize pigment inks, the 3800 doesn't support roll-feed media and uses Epson's K3 ink set. Compared to R1900, it has larger ink cartridge, giving you a slightly better dollar-to-ink-milliliter value and many more prints between the cartridges. However, the pro 3800 does not have the new orange ink as in R 1900. The Pro 3800 is of course designed for those who print a whole lot. In addition, it costs more than twice of the R 1900.
The remaining specifications of R 1900 are similar to 3800. Having a maximum print resolution of 1440 x 5760 dpi, it has a minimum ink droplet size of 1.5 picolitres and can also print on DVD's and CD's. Obviously, you need to have a special disc having a white coating on its top. More essential than the disc printing is the fact that the printer holds both Matte Black and Photo black cartridges and switches itself automatically depending on the paper which you select in the driver. Some printers such as Epson's R2400 permit you to switch them manually.
In this new model, Epson has updated its earlier MicroPiezo AMC print head with a new coating that repels ink and maintains the dot placement accuracy better. It also adds the mist collection system, absorbing the ink overspray while printing borderless. Over a long period, this mist collects at tray and other areas within the printer causing errant marks on bottom and top of prints.
Though the printer lacks a built-in Ethernet connection, Epson has two Hi-Speed USB 2.0 jacks on the back of the printer, so that you connect an excess of a single computer, and with the help of special software, even network the printer through the computer. For those who like to print through PictBridge, a special USB jack rests at the front end of the printer for the very purpose.


The Stylus Photo R 1900 from Epson is surely a worthy follow-up to R1800, though it is hard to state whether it warrants a step-up for R1800 owner. If you print a lot of portraits, you would appreciate the subtle skin-tone enhancements that the orange ink offers. While it is difficult to notice at a single glance, it does become noticeable through side-by-side comparisons. If you regularly observe banding in your prints, the smoother transitions of R1900 could seal the deal for you. However, if the cost is a big issue for you, then Epson Stylus Photo 1400 is your best deal. It offers nice prints, though it does not have the silky smooth color transitions as the R1900.