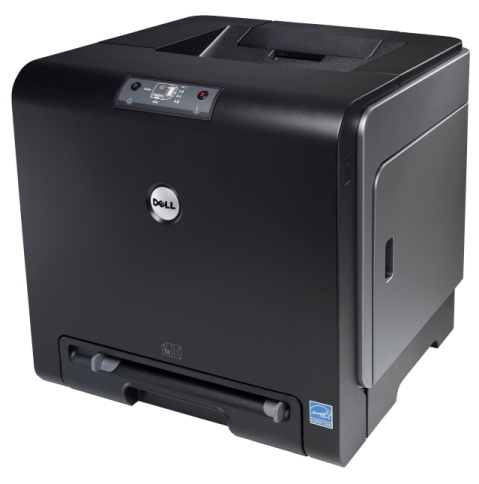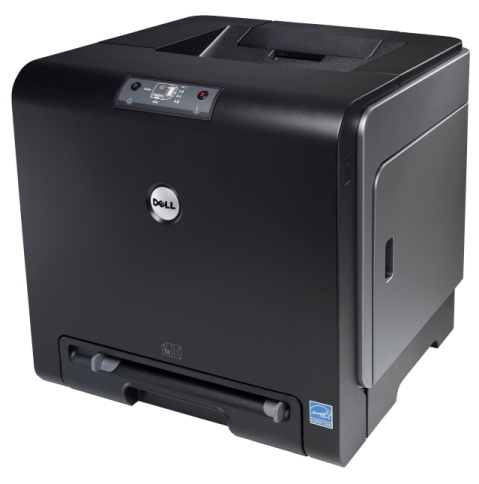 The Dell 1320c is a cheap color laser printer mainly geared for work groups or small businesses. This $ 300 USB – only printer is slower than others in its competition when it comes to black prints, but picks up a slack when it comes to color prints. Though not without faults, the print quality is satisfactory for most of its business uses.
In case you print thousands of black text documents, you would be better off with the Lexmark C 500n. If you want a good print speed balance between black and color, use OKI C3400n instead, which costs about $ 410.
DESIGN AND FEATURES
The design of Dell 1320c is straightforward and basic, that befits small-office role. This dark gray printer measures 14.8 inches tall, 16.6 inches deep and 15.6 inches wide and is lighter than 40 pounds. Additionally, its control panel is limited to two buttons (continue and cancel) and the printer's graphic representation with the LEDs that lights up every time a problem occurs. For instance, whenever the tray is kept open or when the toner runs low, the icon near the paper tray area lights up.
The main paper tray has 250 sheets that contain regular paper. Additionally, on front of the paper tray resides a single-sheet manual feed slot. This model does not have an expandable input capacity. Besides, its top-mounted output bin holds nearly 150 sheets.

On the right side of the printer, the four toner cartridges are hidden behind the panel. The cartridges are lightweight and small for this unit. However, pulling them out causes the toner to dust the desktop. Every cartridge comes in two capacities – 2000 prints and 1000 prints. While small color cartridges cost around $ 59, black cartridge costs $ 45. Bigger versions of every variety cost $ 79 and $ 60 respectively. While you use the larger cartridges, you can calculate that the cost of a black-only print is around 3 cents whereas a complete color page would cost you 15 cents. The monthly duty cycle is 35,000 prints.
Dell 1320c has all the basic features that you can expect from a basic color printer. Though the base model connects only via USB, you can add the network adapter for $ 50. It ships with 64 MB non-expendable memory and 333MHz processor. Though no duplexer units are available for 1320c, the printer driver would help you with the manual duplex print job. The driver likewise can help you enlarge or shrink a print, create a booklet print or poster and also make N-up prints.
PERFORMANCE
The Dell 1320c, when compared to its competitors, is a bit slower when it comes to black prints, but much faster with color. It prints the black text at a 12.11 ppm rate, slower than the Lexmark C500n, OKI C3400n and Samsung CLP – 300N. The Dell came second fastest in terms of color graphics – just behind the OKI and the fastest in the bunch of color prints, edging out OKI.
Your browser may not support display of this image.For a small work group or office group, the Dell's print quality was more than serviceable. Though the text increasingly leaned toward dark gray than true black, the black text print displayed excellent quality. With better color blending, the color text could be improved. The graphics black print appeared faded (more dark gray than black and there was also no sharpening of the photo elements. Most problems were posed by the color graphics print. There was clear, visible banding in grayscale and color gradients.
While the blacks weren't dark enough, the colors were increasingly ruddy. It was also observed that the Dell encountered problems when it came to handling barcode patterns. On the other hand, the photo elements displayed good detail and the color blocks were highly saturated. On the whole, Dell 1320c print quality is good enough for office usage. However, if you value speedy black prints, it is not the best choice.
Support and Service
Having a standard one-year warranty, Dell backs 1320c, even though you can extend it by five years. Additionally, Dell also offers 24×7 toll-free phone support. You can download drivers, manuals, FAQs and user forums from the firm's website.