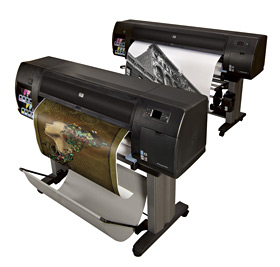 Usually inks used for signage, billboards and other outdoor display media are printed with wide-format printers are solvent inks. As the display media are made of vinyl, this solvent ink helps the pigments to bind with the vinyl.
This binding makes the printed outdoor display durable enough to withstand both rain and storm. But this solvent causes health and environmental problems. However Hewlett-Packard, a leader in the printer and printer ink cartridges, has come up with one such alternative and that is the HP Latex Ink.
On the other hand, the HP Latex Ink is water-based and made from completely recyclable materials. The ink's main ingredients are latex polymer and pigment particles. Its composition is 70% water and 30% additives. It is also odorless and does not release any toxic fumes when it is used. It is low on VOCs, does not have dangerous air pollutants and does not emit ozone. Hence it is eco-friendly and does not endanger your health.
When it comes to durability Hewlett-Packard assures on the HP Latex Ink that any outdoor signage printed out with this ink on a wide-format printer can last up to three years if unlaminated and five years if laminated.
As for indoor signage printed using this ink, the lifespan would be five years if unlaminated and ten years or more if laminated. Durability aside, images on these display media are supposed to be vivid in color as well as sharp in detail with the use of the HP Latex Ink.