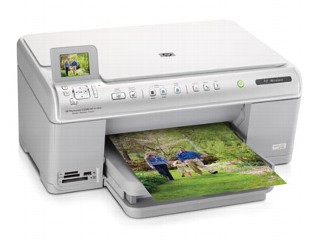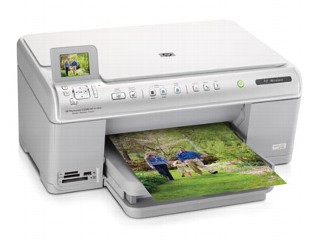 HP is the known leader for photo printer manufacturer in the market. HP brings you the latest technologies and most innovative products to its customers. Out of which HP Photosmart C6380 is one of the best multifunctional printer suited for home and personal use.
The HP Photosmart C6380 printer brings you various functions in a single machine. This serves you with scanning, copying and printing facilities. With an excellent speed of 33 pages per minute for black and white, while colored prints takes 31 pages per minute. It provides you with various connectivity options such as two USB ports, Ethernet, a PictBridge as well as wireless connection. You can also opt for an additional connection via Bluetooth adapters provided by HP. Some of the copier settings include fit to pages, actual, best, normal, black and white as well as color when it comes to customized settings.
Cartridges for HP Photosmart C6380 are CB316WN, CB317WN, CB318WN, CB319WN, CB320WN etc. All of these have their own color denotation. The colors provided are quite standard, nothing fancy but will suffice for general photo printing. Which are specially designed for HP Photosmart C6380 printer? All these printer ink cartridges are of superior quality and provide high-yield output which can print as many as 750 or 800 pages.
The HP C6350 printer is similar to the C6380 and C6340 printers in terms of functionality. The print quality and output is superior and the pricing of this HP Photosmart printer is very reasonable. The presence of copier, scanner and printer is similar to all multifunctional printers. However, it lacks a fax mechanism but the high print speeds are compensation enough.
Each of the HP Photosmart printers have their own individual cartridges, which can be used interchangeably with the printer models 6350, C6340 and C6380. These are the original HP printer cartridges and are available in black, color variants like cyan, magenta and yellow. There are different model numbers to the respective HP cartridges such as CB316WN, CB317WN, CB318WN, CB319WN, CB320WN cartridges etc.