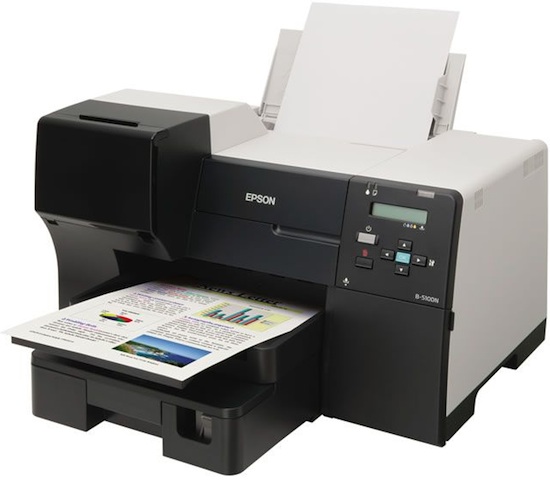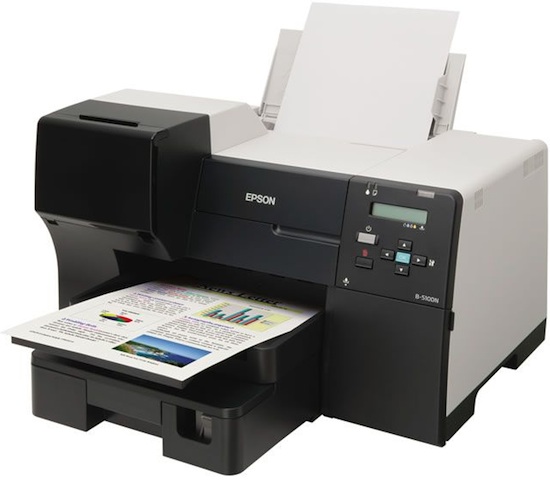 The Epson B-510DN could become the first crossover color inkjet printer success, outperforming the other printers in its class as well as outperforming many lower-end color lasers. The B-510DN is both fast and has a low cost per page cost.
The B-510DN's design is efficient and to replacing the cartridges is quick and easy. The printer has a front ink-cartridge bay.
On the PC, the printer generated plain-text pages at an average speed of 14.7 pages per minute, and 4-by-6-inch color photos on letter-size media at 3.4 ppm.
Print quality was very good and is comparable to a laser printer. Photos on Epson's own matte paper had accurate colors and a slightly dotty yet even texture.
The B-510DN's ink cartridges are extremely inexpensive. Its standard-size ink cartridges include the T616100, a $40, 3000-page black cartridge (which works out to 1.3 cents per page) and $50, 3500-page cyan (T616200), magenta (T616300), and yellow (T616400) cartridges (1.4 cents per color per page). A full-color page would cost just 5.6 cents. The high-yield colors (with T617 designations) each cost $60 and last 7000 pages, or 0.9 cent per color per page. Epson also offers two larger black tanks: the T617100 ($50), a 4000-page cartridge; and the T618100 ($70), an 8000-page cartridge. The former marginally reduces the cost per page to 1.2 cents (hardly worth the bother compared to the T616100), while the latter cuts per-page expense to just 0.87 cent.
You can even save more money if using OEM or off brand cartridges
The Epson B-510DN is a great business option for offices not ready for a color laser printer.