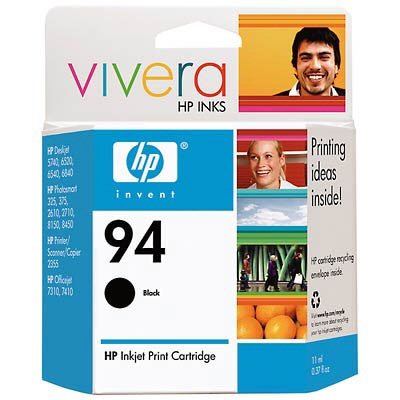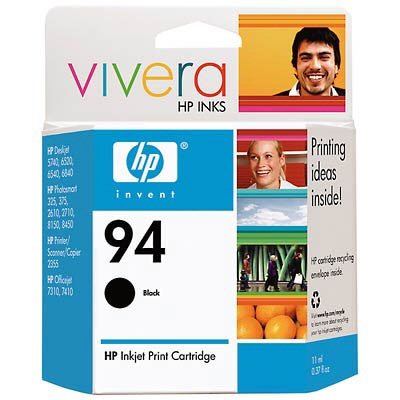 HP 94 Black Remanufactured Printer Ink Cartridges (C8765WN) prints laser-quality black text and graphics. It's designed for superior reliability and ease of use when used in conjunction with HP printers.
Get laser-quality black text and graphics from the advanced cartridge technology and pigment-based ink. Maximize your ink efficiency and you can get fast results and superior fade resistance while using less ink with HP's Vivera inks.
It costs you around $10.00 and is also compatible with various printer models as follows:

DeskJet 460, DeskJet 460c, DeskJet 460cb, DeskJet 460wbt, DeskJet 460wf, DeskJet 5740, DeskJet 5740xi, DeskJet 5743, DeskJet 5745, DeskJet 5748, DeskJet 5943, DeskJet 6520, DeskJet 6520xi, DeskJet 6540, DeskJet 6540dt, DeskJet 6540xi, DeskJet 6543, DeskJet 6548, DeskJet 6620, DeskJet 6620xi, DeskJet 6840,
DeskJet 6840dt, DeskJet 6840xi, DeskJet 6843, DeskJet 6848, DeskJet 9800, DeskJet 9800d, OfficeJet 6200, OfficeJet 6210, OfficeJet 6210v, OfficeJet 6210xi, OfficeJet 6213, OfficeJet 6215, OfficeJet 7205, OfficeJet 7210, OfficeJet 7210v, OfficeJet 7210xi, OfficeJet 7213, OfficeJet 7215, OfficeJet 7218, OfficeJet 7310, OfficeJet 7310, OfficeJet 7310xi, OfficeJet 7313, OfficeJet 7408, OfficeJet 7410, OfficeJet 7410xi, OfficeJet 7413, Officejet H470, OfficeJet H470b, OfficeJet H470WBT, OfficeJet K7100, OfficeJet K7103, OfficeJet K7108, PhotoSmart 2610, PhotoSmart 2610v, PhotoSmart 2610xi, PhotoSmart 2613, PhotoSmart 2710, PhotoSmart 2710xi, PhotoSmart 2713, PhotoSmart 420, PhotoSmart 7850, PhotoSmart 7850v, PhotoSmart 7850xi, PhotoSmart 8050, PhotoSmart 8050v, PhotoSmart 8050xi, PhotoSmart 8150, PhotoSmart 8150v, PhotoSmart 8150xi, PhotoSmart 8153, PhotoSmart 8450, PhotoSmart 8450gp, PhotoSmart 8450v, PhotoSmart 8450xi, PhotoSmart 8543, PhotoSmart 8750g, PhotoSmart 8753, PhotoSmart C3183, PSC 1600, PSC 1610, PSC 1610v, PSC 1610xi, PSC 2350, PSC 2350, PSC 2353, PSC 2355, PSC 2355P, PSC 2355v, PSC 2355xi.