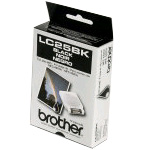 Brother LC25BK Black Compatible Printer Ink Cartridge is constructed to meet performance and durability.
These cartridges are made of all new components, new ink, and are air-sealed packaged and gives you the sharp, clear and professional printing results to you need for your home or business.
It saves up to 80% of your money.
Cost you around $7.50 and works efficiently with various printer models as follows:
DCP-4020C, DCP-4820C, MFC-100, MFC-150CL, MFC-150CLW, MFC-4420C, MFC-4820, MFC-4820C.