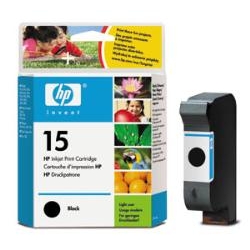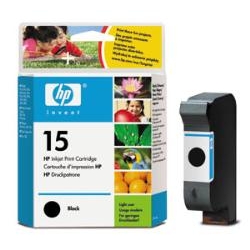 HP 15 C6615DN (C6615D) Black Inkjet Print Cartridge features proprietary HP pigmented ink.
The HP 15 Black Inkjet Print Cartridge works with HP 78 Tri-color Inkjet Print Cartridges and the HP 17 Tri-color Inkjet Print Cartridge to deliver crisp, black text, vibrant, photo-quality color, and outstanding print quality.

Costing you around $7.00, it is also compatible with various printer models such as:
Color Copier 310, DeskJet 3810, DeskJet 3816, DeskJet 3820, DeskJet 3820v, DeskJet 3820w, DeskJet 3822, DeskJet 810c, DeskJet 812c, DeskJet 814c, DeskJet 816c, DeskJet 825c, DeskJet 825cvr, DeskJet 840c, DeskJet 841c, DeskJet 842c, DeskJet 843c, DeskJet 845c, DeskJet 845cvr, DeskJet 916c, DeskJet 920c, DeskJet 920cvr, DeskJet 920cxi, DeskJet 940c, DeskJet 940cvr, Deskjet 948, Digital Copier 310, Digital Copier 320, Fax 1230, Fax 1230xi, OfficeJet 1510ASL, OfficeJet 500xi, OfficeJet 5105, OfficeJet 5110, OfficeJet 5110v, OfficeJet 5110xi, OfficeJet T45xi, OfficeJet v30, OfficeJet v40, OfficeJet v40xi, OfficeJet v45, PSC 1230, PSC 500, PSC 500CXI, SC 500xi, PSC 700, PSC 750, PSC 750CXI, PSC 750xi, PSC 900, PSC 940, PSC 950, PSC 950vr, PSC 950xi.