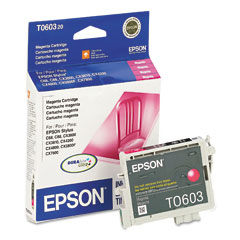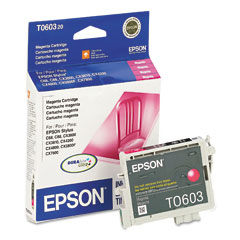 Epson's T060320 (T0603) ink cartridge is a high quality, affordable alternative to original brand Epson T060320 (T0603) ink cartridges. It's recycled, cleaned, inspected and refilled and serves quality standards.
Remanufactured Epson inks also contain more ink inside them, giving you more for your money while producing the highest quality results. You can save up to 80% and still enjoy great output, crisp printing and vibrant colors.
Epson T0603 (T060320) Magenta Remanufactured Ink Cartridge cost you less than $6.00. It is compatible with various printer models such as:
Stylus C68, Stylus C88, Stylus C88+, Stylus CX3800, Stylus CX3810, Stylus CX4200, Stylus CX4800, Stylus CX5800F, Stylus CX7800.