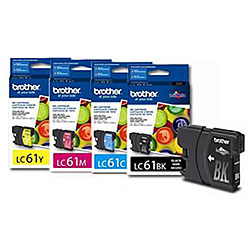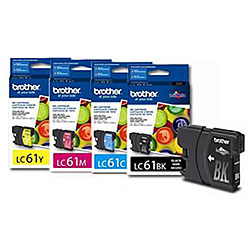 The Brother LC61 ink jet cartridges represent value for money. The Brother LC61 has a market value of around $27.00 but you can get compatible cartridges for $5 to $10.
It comes with 14.6 ml of ink which yields around 450 pages at around 5% of coverage.
Brother LC61 Ink is specially developed for printing high quality graphic and prints that are ozone resistant as well as resistant to light fading action. All of these Brother cartridges undergo rigorous testing and the presence of high viscosity consistent ink helps ink flow without any clogs with an easy regulated flow. Ink distribution is even and is anti-smearing.
Specification:
Average yield of 450 pages with spanning coverage 5%. Its doesn't show recyclable nature as recycling not provided by manufacturer. Its approximate weight is 0.600 pounds and unit of measurement is in PK.
The standard black version is compatible with following Brother Models DCP-585CW, DCP-165, MFC-250C, DCP-385C, MFC-290C, MFC-5490CN, MFC-490CW, MFC-6490CW, MFC-5890CN as well as MFC-990CW model versions.
The respective model numbers such as LC61C, LC61Y and LC61M are for the cyan, yellow and magenta versions of the colored Brother LC61 cartridges.
Overall the Brother LC61 provides solid performance and guarantees exceptional print quality, graphics and long shelf life. And even ink distribution gives you inform print quality.