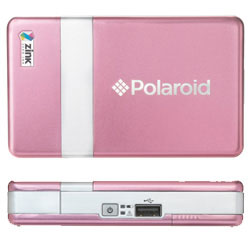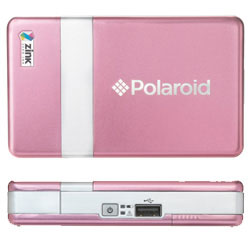 We all memories of the Polaroid camera growing up. Being able to see the picture within minutes was exciting, almost as exciting as shaking the picture and watching it develop right before our eyes. Some might have been sad to hear when Polaroid announced it would discontinue their instant cameras because of nostalgia.
Polaroid has developed new a new line of instant cameras for our age of technology, the PoGo instant camera and printer.
The PoGo is a pocket size camera and printer in one. To keep the size of the printer so small, it prints without ink using the ZINK Zero Ink Printing Technology developed by ZINK Imaging. The processes uses a special photo paper with crystals embedded inside to show the colors. Similar to other pocket sized printers available.
The paper is heat activated and produces vivid sharp photos in seconds. The prints are 2 x 3 inch borderless photos printed in 60 seconds. You can print by sending the image directly from your cell phone via bluetooth.
Polaroid announced it will produce a special pink PoGo to help fund the fight against breast cancer. For every pink PoGo purchased, $10 will be donated to the Breast Cancer Research Foundation. The Polaroid PoGo retails for $49.99.