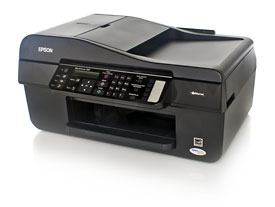 The Epson Workforce 310 is a sleek looking all-in-one printer.  It is an inexpensive option for small offices that need a basic muitifuntion printer.
The retail price of the printer is inexpensive, but the replacement ink costs are very high when compared to other printers in this price bracket.  The Workforce 310 prints fast and the quality prints are reasonable.
The printer is a nice addition to a small office that needs a light duty printer.
Setup if quick and simple.  It can be connected directly to your network via Ethernet connection, or to a computer using USB.
The on-board control panel is nice and allows you to bypass your computer for most printing options.  We are a big fan of duplexing (printing on both side of the paper), unfortunately the Workforce 310 does not have an automatic duplexing option.
The Epson Workforce 310 offers a smaller office an inexpensive multifunction printer that will perform the duties needed in a small office.  Yet, we feel the high cost of ink making it a poor choice over the life of the printer.