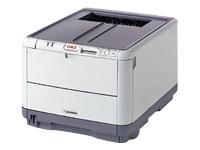 For small home offices and workgroups which print huge volume of colored documents, a color laser printer is the perfect solution. Fully equipped with network connections, the OKI C3600n color laser printer prints at an amazingly high speed compared to its other competing printers.
However, it is bulkier when compared to the other printers and lacks fancy extras like a wireless print server or a full-color LCD screen.
Features and Design
The matte white C3600n measures 14.7 inches wide, 18.8 inches deep and 11.4 inches tall. Weighing nearly 46 pounds, it is larger in size than the Samsung CLP-315 W which is only 12.3 inches deep, 9.6 inches tall and 15.3 inches wide. In addition, the OKI is 20 pounds heavier than its Samsung counterpart.
On the back of the chassis, you would observe all the ports that you need to connect the printer to the computer (which includes the power plug), a USB and an Ethernet port for networking across more than one systems. An important feature absent in OKI C3600n is the front-mount USB port for the connection of PictBridge – direct printing or compatible cameras from the USB flash storage drive. You will observe such a port on Brother HL-4040CN.


As this laser printer has just a single function, there are very few extra features which could be elaborated. OKI needs to be commended as it includes a hefty 128 MB of memory and a 400 MHz processor. This allows it to handle larger print jobs than its competition. In addition, you could even upgrade it to maximum 640 MB memory.
The CMYK toner cartridges of C3600n are separated individually and directly sit underneath the top cover and lined up in horizontal row. Besides, the printer ships with cartridges of standard capacity. As per OKI, each of the three color cartridges lasts for 1000 prints whereas a black cartridge lasts for 1500 pages.
While observing the cartridge prices on OKI website, a user may observe that the cost to replace color and black cartridge is $ 60 and $ 51 respectively. However, OKI also offers toner of high capacity which prints nearly 2000 color pages for $ 105 and 2000 black pages for $ 73. By using high capacity toner for best value, you can spend 5.3 cents for a color page and 2.9 cents for black only page – a fair price considering today's printing costs. Last but not the least, the recommended cycle of monthly duty for the printer is 35,000 pages – more than adequate for workgroups and small businesses.

/searchresults/