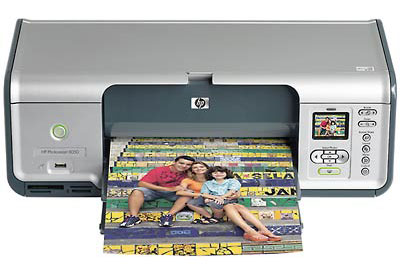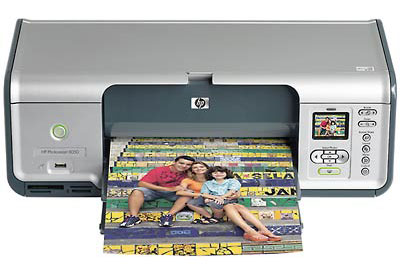 One of HP's latest photo printers is the HP Photosmart 8050. The main feature of this device is that it has six inks than the four usually seen in other printers. The remaining two offer greater range of shade and subtlety.
Similar to other six-ink printers, the 8050 requires its operator to swap black cartridges for special photo-color cartridge while printing photos. Unlike its competitors, the 8050 usually comes with optional photo-cartridge which means that you print photos right from the word go. Your browser may not support display of this image.
Your browser may not support display of this image.
With the installation of standard black cartridge, the 8050 prints text document at impressive 19.9 pages per minute – the fastest. The text appears crisp and clean with good quality print. Besides, it does not appear grey or blotchy when it compulsorily should have been solid black. In addition, even the ink does not bleed on paper. While considering the draft quality, you need to get printing business letters or resumes. It takes just 16 minutes to print test photos – a good job. There are some printers who labor for more than half an hour for the same job.


There may be differences with respect to photo print quality though. In addition, the pictures were a bit grainy which you may rarely expect from printers designed for photo printing. The problem gets especially pronounced when operators get directly printed from the digital camera's memory card. Most prints were also marked by inkjet's paper feed rollers. Though it is hardly common, the marks fade occasionally after an hour or so – in this instance, they did not. There were some pictures which also sport odd-looking proportions or were cropped in unusual ways. This is mainly because the Photosmart tries printing borderless prints, unlike several other printers that just leave white border around the prints. Fortunately or unfortunately, the 8050 never gets borderless printing correct.
The screen of 8050 is on the smaller side. However, its direct system of menu is simple to use. Additionally, the printer also comes equipped with built-in card reader that accepts all forms of memory card; for instance the SD and the xD, compact Flash and so on. In addition, it also has a PictBridge port which helps print from PictBridge compatible camera.