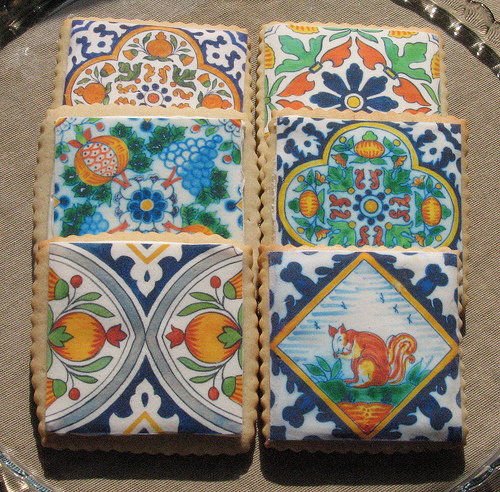 Edible ink is ink that is made mostly out of food coloring. Most brands of edible ink are approved by the Food and Drug Administration, and thus are safe to eat. Among the big-name manufacturers of printers and inks, Hewlett-Packard, Canon and Epson stand out as producers of edible inks, although there are many stores, both online and offline, that specialize in creating and selling their own edible inks. It is even possible to formulate one's own kind of edible ink.
Uses of Edible Ink


Most of the time, we see edible inks being used on pastry products. Cakes are a prime example. Personalizing and customizing is the in thing these days, and a lot of bakeshops these days are offering personalized cakes using photos printed on edible paper with edible ink. Such designs on cakes used to be limited to birthday cakes, but now, any cake can be adorned with photos printed with edible ink, including the usually traditional wedding cakes.
Of course, the use of edible ink is not limited to just birthday cakes and wedding cakes. Cookies, cupcakes and candies can also be decorated using pictures printed with edible ink. Also, there are enterprising people who have made a business out of creating mock food like sushi, maki and even caviar using flavoured edible ink and edible paper.
Printing with Edible Ink
The manufacturing of edible inks is regulated by the FDA, and so they are generally safe. The edible paper sheets upon which these inks are used are made usually from rice or starch, and thus they are safe to eat, too.
As for the printer, any inkjet printer made by HP, Canon or Epson can be used for printing with edible ink. Manufacturers of edible ink always tell which printers are compatible with their products. There is a catch, though. Any printer that is used for working with edible ink must never be used on any other regular printing job. Regular inks are toxic when ingested; thus, any printer used for printing with edible ink should be a printer dedicated for that purpose only.
However, it is possible to convert an old printer that has been used for regular printing jobs as a printer for edible ink. All that you need to do is to clean the printer, especially the printer head, thoroughly to remove all traces of the regular ink that was once used with it. To be on the safe side, you can also replace the printer head with one that is designed more suitably for working with edible ink.