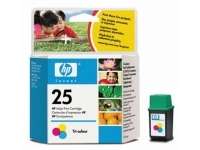 You are sure to appreciate these premium HP 25 (51625A) HP printer ink jet cartridges, which are perfect for producing high quality prints at a considerable savings. HP 25 (51625A) HP printer ink cartridges give you excellent print quality with vivid colors and sharpness.
HP 25 Tri-Color Original Inkjet Print Cartridge (51625A) will cost $47.00. It is specially produced for HP printers, therefore giving you professional print quality and complete satisfaction.
It is compatible with:
Apollo P-1200, Apollo P-1220, Apollo P-1250i, DeskJet 200, DeskJet 200cci, DeskJet 310, DeskJet 311, DeskJet 320, DeskJet 330, DeskJet 340, DeskJet 340C, DeskJet 340cbi, DeskJet 340cm, DeskJet 340cv, DeskJet 400, DeskJet 400L, DeskJet 420c, DeskJet 500c, DeskJet 540, DeskJet 540C, DeskJet 550C, DeskJet 560C, DeskJet 560j, DeskWriter 310, DeskWriter 320, DeskWriter 340, DeskWriter 500C, DeskWriter 540, DeskWriter 540C, DeskWriter 550c, DeskWriter 560c, DeskWriter DeskWriter c, Fax 900VP.