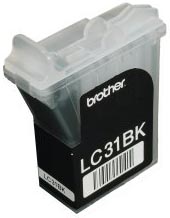 This high quality Brother LC31BK inkjet cartridge is ideal for printing school presentations, family photos, or crisp professional documents.
It gives you excellent print quality and save your lots of money too.
Costing you less than $5.00 it also works with various printer models as follows:
Fax-1815C, Fax-1820C, IntelliFax-1815C, IntelliFax-1820C, MFC-1820C, MFC-3220C, MFC-3320C, MFC-3320CN, MFC-3420C, MFC-3420CN, MFC-3820C, MFC-3820CN.