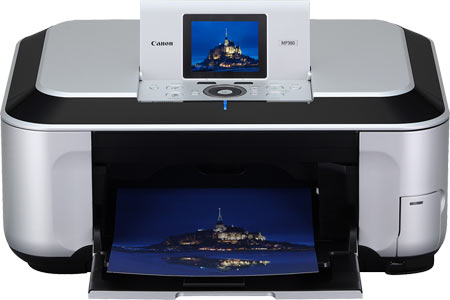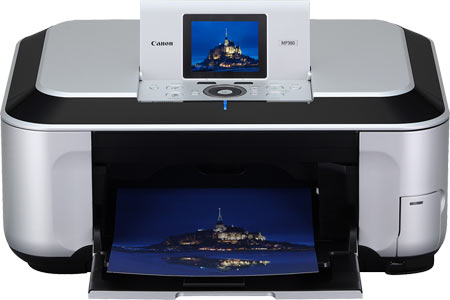 The Canon Pixma MP980 is an all-in-one device that copies, faxes and prints documents in complete color 9,600 x 4800 pixel resolution, thanks to the unique color ink bay which comprises of special gray cartridge for highly distinctive grayscale photo print. Costing $ 300, the MP 980 has a media card reader, a large 3.5 LCD screen and an easy-to-use control panel.
Design and Features:
The Pixma MP 980 comes with a glossy black and silver body. The control panel has a bright color LCD measuring 3.5 inches. Its menu is arranged in a circle, and you could use the base panel's tactile arrangement to access various settings.
You could even connect it to the system using a standard USB connection, or to the network with Ethernet port on its back or even prefer wireless print with the built-in 802.11 b/g wireless server.
It also has a full media card reader and PictBridge USB port on the bottom to directly print and transfer photos from digital camera. Nearly all features expected from a multifunction printer are available in the copier. You could either fit the complete document to a page or even magnify it to 400 percent.
The other features provided are 4-on-1 and 2-on-1 photo collages, cropped copy, exact duplication, borderless copying and two-sided copying. Even the scanning is typical, with the save options that include directly sending the file to the PC, scanned as a PDF, as an email attachment, or simply opening it to the application.
Overall Performance:
In terms of color texts, the MP970 scored at a speed of 7.85 ppm. The print quality suffers in both color and text graphics. At first glance, the text prints look fine. However, with closer inspection, many malformed lines and jagged edges were seen. The color text gets stained with the white mottled marks within letter bodies, and in areas where the smaller text should be formed clearly, barely legible and thick in two point sizes turned out.
The device comes at a price range of $ 287 to $ 199.