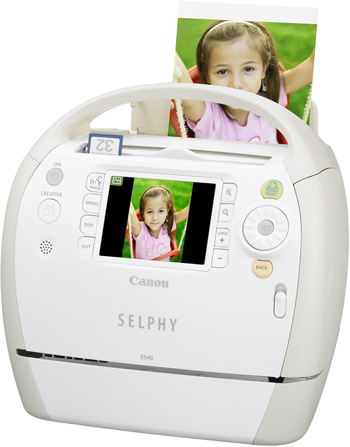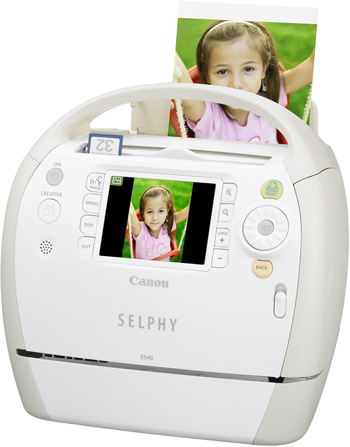 Canon announced this morning it is releasing the new Selphy ES40 talking photo printer.
Some quick facts about the printer:
Printer measures 8.9inchs by 8.9inchs by 5.4 inches
Printer has a convenient carrying handle.
Prints photos up to 4×6
A 4×6 photo can be printed in about 55 seconds.
The printing process uses a dye sublimation print system requiring special ink and paper. Canon boasts the prints can last up to 100 years.
and yes, the printer talks!
The voice system provides assistance to users to alter the photos, crop, and various other options available.
A big plus, you do not need to hook this printer up to a computer to produce your photos.  Canon cleverly added direct support for SD, CF, and MemoryStick cards.  The LCD display gives the user several options to set up before printing the photos.
A downside the printer is the special ink and paper needed.  Currently costing about $20 for 50 photos or about 40 cents per photo.
The Selphy ES40 has a retail price of $150