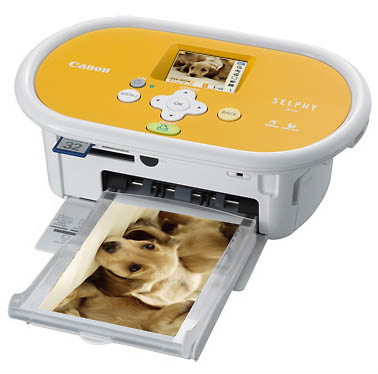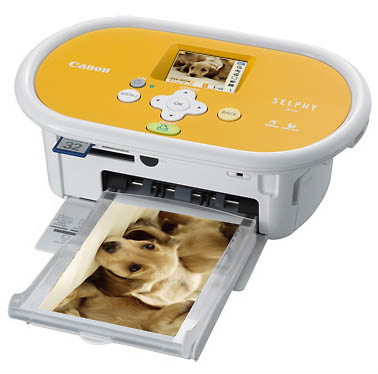 The CP770 is a bucket set and two piece printer. At 8.1 inches height and 10.9 inches width, the oval shaped dye-sublimation printer is a bit larger than CP 760.
In addition, it has the same rubber control buttons beneath the bright 2.5 inch TFT color display. Besides, the onscreen home menu uses several icons to display the current settings and is easy to read.
The picture editing gets narrowed down to five color presets – Black/White, Sepia, Positive Film, Neutral and Vivid. Also, the print settings permit you to insert a date stamp, change the page layout and automatically correct the red eyes. The interface could use some usability improvement. First and foremost, there is hardly any other way to view an excess of one image at one time – you could either scroll through the entire collection and print all the photos on the card at once, and then manually specify as to which pictures do you desire to print. In addition, the small icons on picture screen, which represent the present settings, are difficult to decipher without peeking at the manual – not until you have utilized the printer log well enough to memorize their meanings.
The printer's body is a slimmer rectangle having a covered panel, which reveals a port for external paper tray, Compact Flash cards, Memory Stick and slots for SD. On the right side of the printer, the proprietary ink cassette fits into a protected bay. Though it has an external plug at the back of the device, it lacks a rechargeable battery. This makes the printer wireless-ready and out of the box. Canon, of course, sells an optional battery pack, available on the website for $ 80.


The bucket accompanying the printer is made of molded, durable plastic and matches the paper's white color scheme. For safe travel, it also has two light green tabs which lock into the printer for safe travel as well as a built-in handle. Within the bucket, you will observe labels and slots to store and organize the power adapter brick with few extra ink cassettes/ papers. On the whole, the bucket is large enough to accommodate everything that you need to take the printer with you.
To heat-transfer images onto Canon's proprietary paper, the CP 770 employs dye-sublimation ink technology. Canon sells numerous media options, including postcards, greeting cards and 3-inch by 2-inch credit cards. The process of dye – sublimation is different from the typical inkjet – as the paper enters the machine, it makes four passes – the initial three lays down the base colors (yellow, magenta, cyan) while the last pass imposes a thin overcoat on the image to extend durability and prevent discoloration. The cost per page for a Canon Selphy CP770 comes to around 28 cents – an affordable cost for dye sub-prints.